Route Optimization for Reverse Logistics 
IDS's features are specifically designed for picking up Returns in the First/Last Mile Space.
With your Return Shipments inside IDS, both you and your customers will have full and transparent tracing and tracking capabilities.
That means, your Returns Final Mile Data Gap will be filled helping you predict when and what will arrive at your Returns Center.
Driver Created Return Shipments
Our first option for managing Returns is creating new Return Shipments in the field using our driver app. This is the perfect solution for Reverse Logistics without an ASN.
Here is how it works.
When the driver arrives at a pick up location they:
scan the location's barcode or select the location from a dropdown.
scan all the Return Products' UPC barcodes.
place the items into a container (box, satchel, tote, etc)
affix a unique barcode onto the container or they scan the container's reusable barcode.
capture the Shipper's Name (POP) and/or Signature.
IDS then creates a unique trackable shipment containing all the scanned Products.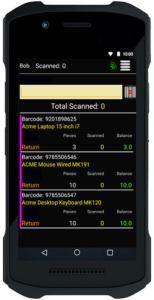 Advanced Shipping Notice
Another option is, IDS can receive an Advanced Shipping Notices (ASN) via SFTP or webservices for Return shipments.
The ASN can list the products being returned, their associated UPC barcode and the number of pieces.
Or the ASN can simply list the number of sealed packages (totes, satchels, boxes, etc) that contain the Returns.
Either way, the driver can capture a Proof of Pick Up (POP) and a Pick Up Signature.